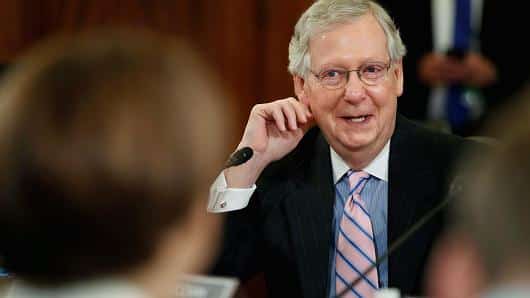 A wide-ranging agricultural bill that includes a provision to legalize hemp made its way through a crucial Senate committee on Wednesday, passing 20-1.
Last week, Senate Majority Leader Mitch McConnell (R-KY) inserted the cannabis provisions—which would remove hemp from the federal definition of marijuana and also free up hemp cultivators to receive federal crop insurance—into the 2018 Farm Bill. The move builds upon the senator's successful effort to include protections for industrial hemp research programs against federal interference in the 2014 version of the bill.
"I think it's time we took this step," McConnell said before the Senate Committee on Agriculture, Nutrition and Forestry on Wednesday. "I think everybody has now figured it out that this is not the other plant," he added, referring to hemp's cannabis cousin, marijuana.
"All the people in rural Kentucky who grew up with tobacco are hoping that this will be really something. And as we all know, hemp is very diversified. It can end up in your car dashboard, it can end up in food, it can end up in certain kinds of pharmaceuticals. It's time to figure it out and see where the market will take us. I think it's an important new development in American agriculture."
McConnell also appeared on the Senate floor earlier Wednesday to reaffirm his support for the bill's hemp provision.
"It's a landmark piece of legislation that will benefit farmers and communities throughout our country," McConnell said. "I'm particularly excited that the legislation being considered today includes provisions from the Hemp Farming Act of 2018…which I introduced earlier this year."
"This will empower farmers in Kentucky and other states to fully realize the potential of industrial hemp."
Late on Tuesday, Sen. Chuck Grassley (R-IA) filed an amendment to the Farm Bill that would require the Justice Department to "modify the definition of the term 'hemp' and make a determination as to whether cannabidiol [CBD] should be a controlled substance" under federal law.
Hemp legalization advocates swiftly responded, urging committee members to oppose the proposed changes, which they feared would gut the intent of McConnell's legislation.
Kentucky's Commissioner of Agriculture also tweeted that "I STRONGLY oppose Senator Grassley's Amendment."
Kentucky's farmers and processors are making innovative CBD products available to consumers. We recorded millions of dollars in sales revenues last year. The Grassley Amendment must be STOPPED in its tracks. #KyAg365 (2/3)

— Commissioner Quarles (@KYAgCommish) June 13, 2018
Grassley spoke in defense of his proposed amendment, lamenting that he'd "objected on procedural grounds" to the hemp legalization provision and was ignored. He also argued that he'd support the legalization of industrial hemp, but not its derivatives such as CBD. Grassley voiced concerns that the bill would "allow any snake oil salesman" to peddle unregulated CBD products to patients suffering from conditions such as epilepsy and anxiety.
Grassley also claimed that the hemp legalization provision falls "squarely within the Judiciary Committee's jurisdiction," which he chairs, as opposed to the Senate Committee On Agriculture.
Notably, however, he didn't call for a committee vote on his proposed amendment. Instead, he asked that members "work with me to modify this provision after this bill gets out of committee."
McConnell pushed back against the senator's remarks. He said that he felt confident in the integrity of the bill and the safeguards it provides after consulting with the Justice Department, the Food and Drug Administration (FDA) and the ranking member of the Senate Committee on the Judiciary. Grassley's amendment would "undercut essential premise of the bill, namely that help and its derivatives should be a legal agricultural commodity," McConnell said.
"Hemp should be allowed to flourish again in this county…"
During the Wednesday committee markup, several lawmakers voiced support for legalizing hemp, including Sens. Michael Bennet, (D-CO), Heidi Heitkamp (D-ND) and Amy Klobuchar (D-MN).
Though the bill could still be subject to further amendments when it reaches the Senate floor, it's doubtful that the hemp provisions would face significant resistance given their sizable bipartisan support. McConnell is joined by Senate Minority Leader Chuck Schumer (D-NY) and Sen. Ron Wyden (D-OR), among others, who also favor of the provision.
McConnell also said he received assurances from U.S. Attorney General Jeff Sessions, a staunch marijuana prohibitionist, that while he wouldn't embrace the hemp legalization move, he "is not going to oppose us," the Associated Press reported.
I'd like to thank the Chairman & @SenStabenow for working w/ me to include my #HempFarmingAct in the bill. It builds on the success of the pilot program I championed in the 2014 farm bill by removing federal roadblocks to industrial hemp.

— Leader McConnell (@SenateMajLdr) June 13, 2018
Lawmakers argue that federal laws pertaining to hemp cultivation have done a disservice to farmers and businesses in the United States. While it's legal to sell hemp products, such as clothing and cosmetics, it remains illegal to cultivate the non-psychoactive cousin of marijuana under federal law.
Wyden took to the Senate floor last week, accompanied by two baskets full of hemp products, to make just that point.
"There can't be many policies on the books that are more anti-farmer than that one," he said. "Hemp growers in places like Canada and China must just be laughing all the way to the bank. They're cashing in, while our farmers have their hands tied by the current hemp restrictions."
"Our bipartisan legislation will help farmers unlock the full economic potential of industrial hemp, spurring economic growth and creating good-paying red, white, and blue jobs in rural communities across the country. Passing the Hemp Farming Act through the Senate Agriculture Committee marks a huge step toward allowing consumers to buy products made with hemp grown in America."
I'm thrilled the bipartisan #HempFarmingAct passed the #SenateAg committee today. This marks a huge step toward allowing consumers to buy products made in America with hemp grown in America. #FarmBill18 https://t.co/6I6np0Dei3

— Ron Wyden (@RonWyden) June 13, 2018
My bipartisan #HempFarmingAct w/ @SenateMajLdr, @SenJeffMerkley and @RandPaul will help farmers unlock the full economic potential of industrial hemp, spurring economic growth and creating good-paying red, white, and blue jobs in rural communities across the country.

— Ron Wyden (@RonWyden) June 13, 2018
"It's a crock," Schumer, the Democratic leader, said last month, of the nation's ban on hemp. "It makes no sense that the [Drug Enforcement Administration] is the primary regulator, and that they stop farmers and investors from growing hemp. Why are we buying hemp from other countries, when we have hundreds of acres that could be grown right here in our backyard?"
In a related move, for the third year in a row, the Senate unanimously adopted a resolution last week that acknowledged "the growing economic potential of industrial hemp." But with the 2018 Farm Bill, this could represent the first year that a hemp legalization provision actually passes in the Senate.
All of this hemp momentum comes as many lawmakers are vying for broader cannabis reform measures, including the newly filed STATES Act, which would exempt marijuana from the Controlled Substances Act for states where the plant has been legalized. It would also provide protections for banks dealing with legal cannabis businesses and legalize industrial hemp.
President Donald Trump told reporters that he "probably will end up supporting that [bill]," last week.
Attempts to include hemp-related amendments to the House version of the Farm Bill were blocked last month. That said, the Senate leader is in a good position to push the legislation forward through a bicameral conference committee, which will eventually craft a final bill to send to the president's desk.
McConnell said a full Senate vote on the bill would take place before July 4.
See below for a summary of the Farm Bill's hemp provisions, as prepared by the Agriculture Committee:
Sec. 7125 Supplemental and Alternative Crops; Hemp
x Reauthorizes a research project for supplemental and alternative crops including canola and hemp.
Sec. 7401 Critical Agricultural Materials Act
x Reauthorizes the Critical Agricultural Materials Act, and includes hemp as an eligible product.
Sec. 7415 Legitimacy of Industrial Hemp Research
x Requires the Secretary to conduct a study and report on the economic viability of the domestic production and sale of industrial hemp.
Sec. 10111 Hemp Production
x Amends the Agricultural Marketing Act of 1946 to allow states to regulate hemp growth and production, based on a state or tribal plan that includes information on locations of hemp production, testing for THC concentration, disposal of plants that are out of compliance, and negligence or other violations of the state or tribal plan.
x Requires states and tribes without USDA approved plans to follow federal laws and regulations promulgated by USDA on hemp production.
Sec. 10112 Rule of Construction
x Clarifies that nothing in this title authorizes interference with the interstate commerce of hemp.
Sec. 11101 Definitions
x Defines cover crop termination and defines hemp as used in section 297A of the Agricultural Marketing Act of 1946.
Sec. 11106 Insurance period
x Amends section 508(a)(2) of the Federal Crop Insurance Act by adding hemp.
Sec. 11112 Submission of policies and materials to board.
x Amends section 508(h) of the Federal Crop Insurance Act to allow the Corporation to waive the viability and marketability requirement in the case of a policy or pilot program relating to the production of hemp.
Sec. 11120 Agricultural commodity
x Amends section 518 of the Federal Crop Insurance Act by adding hemp.
Sec. 11121 Reimbursement of research, development, and maintenance costs
x Amends section 522(b) of the Federal Crop Insurance Act to allow the Board and Corporation to waive the viability and marketability requirements in the case of research and development relating to a policy to insure the production of hemp.